ABOUT GOLF SKATE CADDY
GSC™ products have been designed specifically to pack down easily and without fuss into the back of your station wagon, hatchback, SUV, 4WD, etc.All this without the need to carry ramps or a trailer.
ORIGIN STORY
The inception of Golf Skate Caddy can be attributed to the visionary minds of the Quinn brothers, Daniel and Mathew. With a rich background in electric vehicle development spanning over a decade, their passion for the realms of surf, skate, and golf became the driving force behind their innovative venture.
Building upon their expertise in electric skateboards, the Quinn brothers embarked on a mission to revolutionize transportation by integrating it seamlessly with their beloved game. This led to the birth of the first-generation Golf Skate Caddy (V1), a remarkable apparatus tailored for golf enthusiasts. Subsequently, the introduction of the V2 and V3 models further enhanced the Golf Skate Caddy, consistently elevating its performance and features.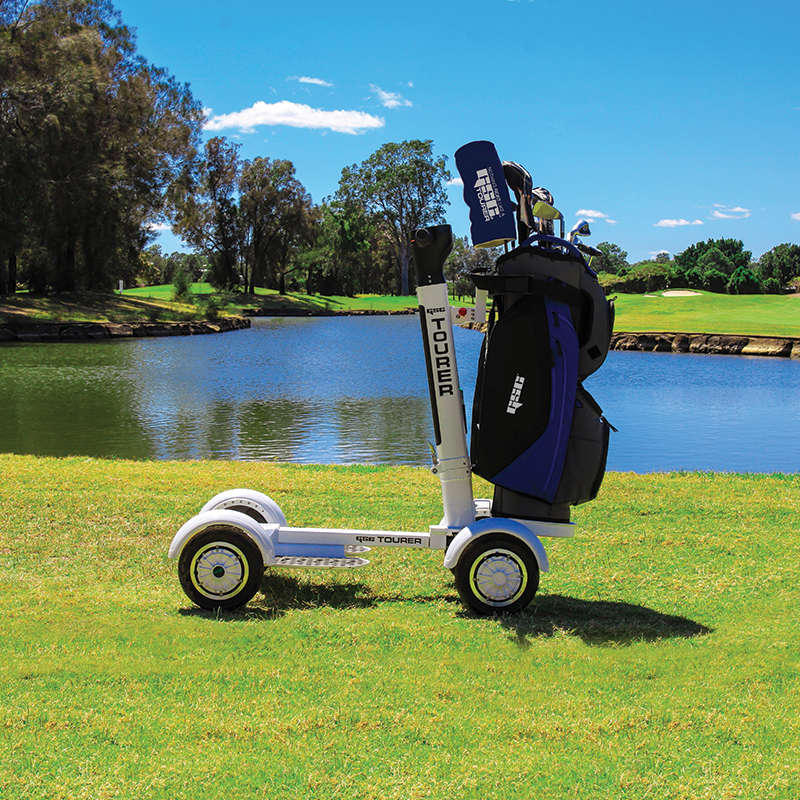 ENTER THE GAME CHANGER
The GSC™ Tourer represents a remarkable achievement by the esteemed GSC™ team. Drawing from extensive customer feedback and invaluable industry insights, coupled with a decade of experience garnered through the development of our previous generations of GSC™ products, we proudly present a standout offering that enhances the golfing experience for all players.
Building upon the success of its predecessor (V3), the GSC™ Tourer marks an innovative stride forward. Delivering exceptional stability and a seamlessly smooth ride, this cutting-edge product ensures optimal engagement of the player's core. By employing intuitive handlebar maneuvering, users effortlessly navigate the course with precision.
Boasting a "keyless" start system facilitated by tapping the "RFID" tags on the LCD display, the GSC™ Tourer epitomizes simplicity and convenience, emerging as one of the most user-friendly golfing solutions available worldwide. Undoubtedly, the GSC™ Tourer represents the epitome of golfing excellence, surpassing all expectations.

A PART OF THE FIIK™ GROUP
FIIK™ stands as a trailblazing manufacturer of cutting-edge rideable electric vehicles and shared/consumer scooters, commanding an industry-leading position for over 15 years. A culmination of relentless testing, refining, and development, FIIK™ continually strives to provide unparalleled products that cater to the enjoyment of all.
Since 2005, FIIK™ has distinguished itself as one of the few Australian companies to possess complete ownership of its factory in China. This strategic reach and operational control have bestowed FIIK™ with a competitive edge, enabling the creation of iconic products that dominate the market today.